A short illustrated history of CalorieStar, with some images resurrected from an old hard disk.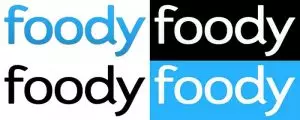 In August 2001 I wrote foody the ancestor of fabtrackr which was a Visual Basic application for tracking calories consumed. The backend database that stored the Nutrition Information was called CalorieStar. The app no longer exists🙁

In October 2006 I added a Tummy Training game styled on the popular Nintendo DS title at the time. The app showed a series of foods on the screen that you would sort into order of calories.

Finally June 2009 saw the release of version 2 of foody.

In May 2013 I tried a number of different styles and during the brainstorming a new name appeared and with v3, foody became foodtrack'r.

January 2014 and another refresh of the brand saw the hyphen removed.
In August 2017, foodtrackr had to go; Takeaway.com based in the Netherlands registered a trade mark for Food Tracker in 2009 and advised they would object to me using the foodtrackr brand and as such a search for a new name began.
After much searching for a new domain I settled on fabtrackr – the Food and Body Tracker. The logo was adjusted slightly and the curve was shifted left to better represent weight loss.

In 2022 I decided to push the CalorieStar brand that had been hiding in the background into the limelight. This was the first time CalorieStar had a brand of its own, but the Star logo took the same curve from the fabtrackr logo as a nod to the associated brand.